In 3 Simple Steps
If you no longer live in the UK and have contributed to a UK pension, you might be wondering what your options are.
At SuisseRock we have been helping members of UK pensions for nearly 10 years and have overseen the transfer of over 50 million in assets.  Using our extensive knowledge and experience we have been able to streamline the process in order to make it as easy as possible for our new clients.
STEP ONE
Schedule your complimentary UK pension review with one of our trained pension experts at a time that suits you.  We now host most of our meetings online via Microsoft Teams as it is more convenient for you.
STEP TWO
We will review all of your UK pension assets, your future goals and objectives in order to understand what retirement looks like for you.  If you are unsure about who your pensions are with and their current values, don't worry we will do all the heavy lifting.  We can liaise with your providers on your behalf to gather all of the information we need in order to complete our review process for you.
STEP THREE
We will provide you with our FREE comprehensive report outlining where you are now and what your options are.  From here you can make informed decisions about how to improve your future income.
---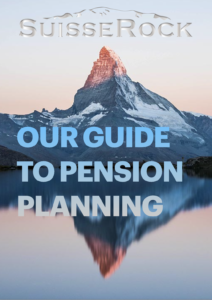 ---
What will you find out about your pensions?
Whether or not you have a Final Salary or Money Purchase scheme, we are able to contact your providers and request very detailed information from them.  We will establish the following;
How your capital is invested
At what age can you access your pension
What your projected benefits at retirement are
Will your spouse receive all or half of your benefits upon your death
Can your children benefit upon your death
Is your pension frozen and not growing
What the charges are associated to your scheme
How much tax you will pay when you draw upon your pension
---
What our clients say about us
Graham Kennedy
2023-01-11
Professionnel advisory service provided by Steve to help me with my UK pensions and investments. Definitely recommend using SuisseRock for advice in these financial areas.
I have been using SuisseRock's services for about eight years now. Steven Petts always provides great investment advice, made clear in plain speaking English. Highly recommended.
I am very happy with the Suisse Rock Team and their service . Beeing a customer for almost 5 years, my investments are performing very well and on regular meetings I am able to make changes according my needs
Steve Petts at SuisseRock has been managing my investments since 2013 and I am happy with the service and returns over that time. Steve has invested into products recently that have delivered a good return even through the uncertainty of the current Covid situation making me feel more confident that my portfolio is growing to my expectations.
---
Request your complimentary UK pension review today
Simply complete the form below and one of our trained UK pension team will contact you to schedule your review meeting.
---