They can help you plan for and achieve a more prosperous future
Financial planning, by its nature, forces individuals to forward plan. The benefit of this is that not only can they start actively creating the sort of future they envisage, but they can also have contingencies in place when unexpected events occur.
Working with a financial advisor will help you and your family plan ahead and cover the following key areas:
Financial understanding
Managing budgets
Creating emergency funds
Protecting income in the event of illness
Protecting dependants in the event of death
Choosing investments to suit a risk profile and objectives
Planning for a comfortable retirement
Reducing tax liabilities
Financial planning is a cyclical process and so it constantly evolves during someone's lifetime as their circumstances change. The process is made up of the following six steps: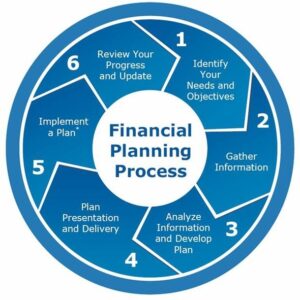 ---
Book your complimentary financial review meeting
As an expat, financial planning is even more difficult as you have to deal with numerous different jurisdictions in addition to Switzerland.  We have been helping the expat community for over 10 years now and understand the challenges you face and are well positioned to help you plan for your future.
Our initial meeting is complimentary and we will carry out a full financial wealth check covering all of the above points and leave you with a much clearer vision of your future.
To book your wealth check or simply speak with one of our advisors you can reach us a number of different ways.
Call us on +41 225 187 583
Email us at [email protected]
Book a convenient time using our online calendar BOOK NOW!
Complete the form below.