With the SNB reducing interest rates to -0.75%, banks in Switzerland are currently offering their customers 0% interest on current and savings accounts.  When you combine this with their monthly/annual account fees and inflation currently at 0.7% it is clear that we need to do something with our capital.  Below are the latest bank rates from UBS and Credit Suisse with links to download a PDF.
---
Current Account = 0% interest
Savings Account = 0% interest
Current Account = 0.01% – Up to CHF 100,000. For higher amounts, 0% per year
Savings Account Bonviva Silver = 0.10% – Up to CHF 250,000. For higher amounts, 0% per year
---
In addition to the above thanks to COVID-19 clients cash reserves have swelled to a record high since lockdowns and travel restrictions have lead to people spending less.  Not being able to dine out, book holidays and travel to and from work means we now have more disposable income benefitting from the 0% interest rate.
So what is the answer?
1 – First establish what your disposable income is by calculating your monthly expenditure and deducting this from your net income.
2 – Ensure you have sufficient cash in your emergency fund.  We recommend that you keep a minimum of 6 months living expenses in reserve.  (Disposable Income) X 6 months.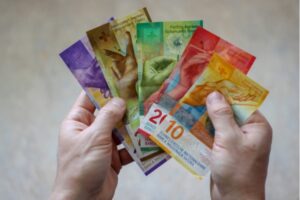 3 – Speak with an investment professional about how to allocate your excess capital (savings) and review this on a regular basis. We recommend that you remain cautious with this capital and focus on wealth preservation whilst trying to achieve 2-3% above inflation.
4 – Start to pay yourself every month.  Divert up to 50% of your disposable income to a regular savings plan where in a structured and disciplined approach you can take advantage of unit cost averaging and compound interest,  This strategy also allows you to be more aggressive with your allocation due to your 12 entry points per year.
5 – As the remaining 50% of your disposable income accumulates ensure that every 6-12 months this capital is also put to work if not required or earmarked for anything in particular.
---
If you need further advice
If you would like advice on how to implement the above strategy our advisors will be more than happy to assist you.  Simply leave your details below and one of our advisors will contact you as soon as we are able.